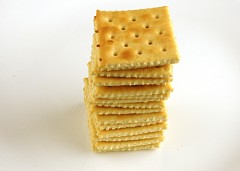 make a real midnight snack, so I'm chewing on saltines. Most people would probably never on their own accord eat numerous plain saltines straight from the plastic tube like this. But ya know what. I like how they taste. And yes, my calories may be completely empty, but at least i'm enjoying them.
I'm not gonna lie, these would be a million times better if they had some Light Creamy Swiss Laughing Cow cheese on them. Oh baby, that is the best! I think Derek told me that one of his sisters, either Laura or Stephanie loved it, so I thought i'd give it a try.
It is now my favorite thing. :)
What's your favorite midnight snack?